Get acquainted with Sheppard Mullin attorneys who are alums of your school by searching below.
Summer Associate Program
Sheppard Mullin places a major emphasis on its Summer Associate Program as the primary vehicle to attract high-achieving law students from diverse backgrounds to the firm. The program is designed to acquaint students with the firm's practice (through hands-on work experience) and lawyers (through a variety of fun social activities). By the end of your summer, summer associates gain a full and realistic exposure to the range and quality of the firm's work, the structure of the firm and the personality of the office.
Sheppard Mullin's Summer Associate Program has consistently secured high rankings in national surveys. During the past 5 summers, our annual program rankings in The American Lawyer have ranged between #13-44. In Vault.com's 2013 and 2014 nationwide surveys, our firm ranked #13 and #14, respectively, for best summer programs.
What To Expect
We structure our Summer Associate Program to give law students a realistic view of the way we practice throughout the year. Our summer associates do meaningful work for clients of the firm and work closely with partners and associates in practice fields that they select. In the past, our summer associates have drafted briefs and other pleadings, credit agreements, acquisition agreements and other significant legal documents. Summer associates also attend depositions and court hearings, and work on pro bono projects with supervising attorneys. Our attorneys are urged to provide feedback to summer associates when a project has been completed, and each student receives a mid-summer review.
Sheppard Mullin provides an extensive hands-on training program to summer associates in most of our U.S. offices. Our unique program delivers intensive training in both transactional and litigation practice in a realistic setting. The Business Law Training (BLT) portion involves teams of students documenting and negotiating a corporate asset purchase agreement, led by seasoned corporate and finance lawyers in the firm. Following that, we launch into our Trial Advocacy Program (TAP) through which summer associates learn the basic elements of a trial (opening statements, closing arguments, direct and cross-examination and proper use of exhibits at trial). In teams of two, the students prepare for and conduct a half-day trial in front of a sitting judge. TAP sessions are also taught and coached by experienced partners and associates. BLT and TAP are invariably regarded by our summer associates as the highlight of their summer. Summer associates are also invited to attend Practice Group-specific training programs that are held during the summer.
Social and Cultural Activities
The purpose of our Summer Associate Program is to hire students who will return to Sheppard Mullin as associates and form a lasting relationship with our firm. Toward that end, we provide our summer associates with opportunities to become well-acquainted with the partners and associates in the office, and with the cultural resources of the region in which the office is located. Events in our various offices during the past few summers have included beach parties, white-water rafting, sailing, scavenger hunts, a wine-tasting day-trip and cooking classes. Summer associates are invited to cocktail parties and dinner parties at attorneys' homes, giving them a perspective on the lives of our lawyers outside the office. Summer associates also attend cultural and sporting events, including music and theater productions and major league baseball games.
What Our Summer Associates Say
Comments from students who have participated in our business law and trial advocacy programs include the following: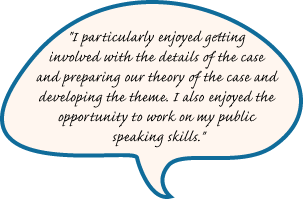 "The people were all really great. We all got a really good feel of what transactional work is about and also got to know some of the people in the department."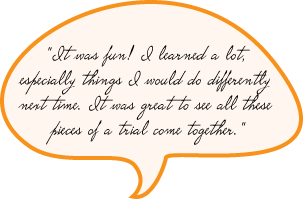 "There are very few opportunities to learn and practice litigation skills before entering the practice of law. This program also helps participants understand their strengths, weaknesses, interests, and personal style."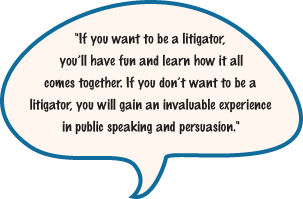 "I knew I already wanted to do litigation before I began this program. However, I was wary of public speaking so I signed up for this program to combat that fear. All the constructive criticism and support throughout this program has helped me gain confidence and seek real ways I can improve my technique and public speaking. Definitely still want to do litigation."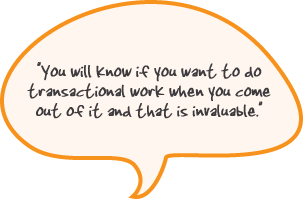 "Our judge was very friendly and instructive. He handled our motions and evidentiary objections well, explaining his rulings and opinions along the way. His feedback at the end was also helpful. I really enjoyed the judge's handling of our trial since he taught us along the way about little things, like submitting exhibits or making a record."

"This program was absolutely phenomenal. It was such a terrific learning experience in so many different ways. And it was a tremendous amount of fun. It is a huge asset to the summer program and really sets Sheppard Mullin apart."
Compensation
Our weekly compensation for summer associates in 2017 will be $3,462.
Frequently Asked Questions
How long does the summer program run?
Our Summer Associate Program runs for ten weeks starting in mid-May and concluding in late July. Adjustments can be made for students attending schools that are on the quarter system. We do not allow students to split their summer with another employer.
Do you provide transportation to the firm from my school?
The firm provides round-trip air transportation for out-of-town students between their school and our office; students who elect to drive instead will receive a check for round-trip airfare.
What do I wear to the office?
All of our offices are "business casual."
What kind of mentoring will I have?
Summer associates have at least one associate mentor and, in some offices, two.
Are spouses or significant others included in events?
Our general rule of thumb is that spouses or other guests are included in events which take place over the weekend.
Photo Gallery
LOS ANGELES/CENTURY CITY SUMMER EVENTS
The Price is Right
NALP Profiles
Recruiting Chairs
Los Angeles
Century City
Chicago
Recruiting Co-Chairs: Larry Eppley and Kevin Cloutier
Office Administrator: Betsy Zukley
Our Chicago office will not have a summer associate program in 2017.
Del Mar
New York
Recruiting Chair: Ed Tillinghast
Recruiting Administrator: Nicolle Gibney
Our New York office will not have a summer associate program in 2017.
Orange County
Recruiting Chair: Dan Bane
Recruiting Coordinator: Patty McGraw
Palo Alto
Recruiting Chair: William Ahmann
Recruiting Administrator: Nadia Ferrari-Pashman
San Diego
Recruiting Co-Chairs: Michael Leake and John Dineen
Recruiting Administrator: Rheanna Smith
Recruiting Assistant: Cindi Robertson
San Francisco
Washington, D.C.
Recruiting Chair: Paul Werner
Recruiting Administrator: Maddy Kershek