Michael W. Scarborough
Partner
Foreign Language Bios
Education
J.D., University of California, Berkeley, 1999
B.A., University of Virginia, 1993, with distinction, Phi Beta Kappa
Admissions
California
Ninth Circuit Court of Appeals
United States District Courts for the Northern, Eastern and Southern Districts of California
Overview
Honors
Experience
Thought Leadership
Memberships
Overview
Mike Scarborough is a partner and Practice Group Leader of the Antitrust and Competition Practice Group in the firm's San Francisco office.
Areas of Practice
Mike specializes in complex litigation, with extensive experience handling international cartel investigations, class actions, high-stakes commercial disputes, consumer protection matters and litigation and investigations at the intersection of antitrust and intellectual property law. He regularly defends U.S. and multinational businesses in all phases of class action and direct plaintiff litigation, as well as businesses and individuals in civil and criminal matters involving federal and state enforcement agencies. He has helped clients successfully manage – and avoid – disputes and investigations around the world.
Mike's tireless and determined client advocacy garner him regular industry recognition, with nods from the American Lawyer (Litigator of the Week), Competition Law360, Chambers USA, Benchmark Litigation, Acritas Stars, the Legal 500 and Super Lawyers. Clients and commentators describe the "very impressive" Mike as a "fierce advocate with integrity and professionalism" (Chambers USA); "a great negotiator" and "an incredible legal tactician" (Acritas); and "a tough advocate, who is also professional and fair" (Legal 500).
Honors
Chambers USA, Antitrust and Competition, Leading Lawyer, 2018-2019
Chambers USA, Antitrust and Competition, Up and Coming, 2016-2017
Litigator of the Week, The American Lawyer, February 25, 2016
Star Lawyer, Acritas Stars, 2017-2019
Competition Law360 – Rising Star, (selected as one of the top 10 competition lawyers in the United States under the age of 40), 2010
Recommended Lawyer - United States Antitrust, Legal 500, 2015-2018, Cartel and Civil litigation/class actions: defense
Litigation Star/Antitrust Star/California Litigation Star, Benchmark Litigation, 2009-2019
Northern California Super Lawyer, Super Lawyers, 2014-2018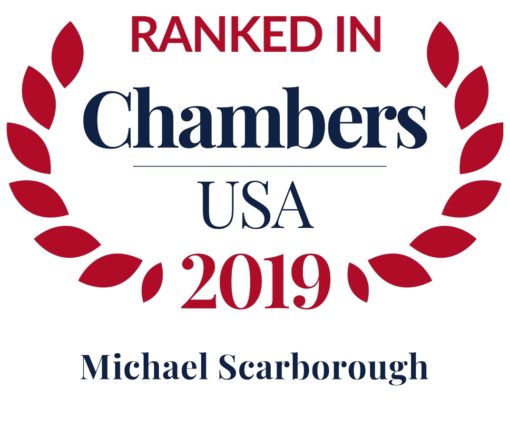 Experience
Representative Matters
Secured complete dismissal of all claims against Samsung Electronics in boycott and monopsonization case relating to smartphone patent licensing, based on lack of antitrust standing and failure to allege a plausible conspiracy. Obtained affirmance of defense judgment on appeal to the Ninth Circuit Court of Appeals. Cascades v. RPX Corp., ND Cal. 4:12-cv-1143 YGR.
Representing Samsung Electronics in global patent and standards related antitrust governmental proceedings, and private antitrust actions involving major technology companies including Qualcomm and Apple.
Acted as national counsel for industry-leading multinational electronics companies in criminal and civil price-fixing actions regarding lithium ion rechargeable battery products. In re Lithium Ion Batteries Antitrust Litig., MDL No. 2420.
Representing telescope manufacturer against price-fixing, market allocation, monopolization and attempted monopolization claims. Optronic Technologies, Inc. v. Ningbo Sunny Electronic Co., Ltd., Case No. 16-6370 EJD (N.D. Cal.)
Represented the largest independent publisher of yellow pages phone directories in California, as plaintiff in below cost pricing, loss leader and secret rebate action under California's Unfair Practices Act, favorably settling for a confidential amount. AGI Publishing, Inc. v. YP Western Directory, Fresno Superior Court, No. 14 CE CG 00656.
As national counsel, defended international electronics companies in federal and state government enforcement and civil price-fixing class and opt-out actions regarding cathode ray tube products. In re Cathode Ray Tube (CRT) Antitrust Litig., MDL No. 1917.
Obtained complete dismissal of sham litigation, predatory pricing and state unfair competition counterclaims in patent infringement action concerning electric grid voltage optimization technology. RGA Varentec, Inc. v. GridCo, Inc., Case No. 16-217-RGA-MPT (D. Del.).
Representing MasterCard International Incorporated in coordinated class actions and related settlement appeals concerning alleged payment card tying and network exclusionary practices. In re Credit/Debit Card Tying Cases, Cal. Jud. Council Coord. Proc. No. 4335.
Defended information technology services company and top executives with respect to criminal Sherman Act bid-rigging charges and related false claims and unfair competition civil action by California Attorney General.
Represented international electronics companies in criminal and civil price-fixing actions concerning thin film transistor liquid crystal display products, including multi-billion dollar price-fixing claim brought by Motorola dismissed just before trial on FTAIA grounds. In re TFT-LCD (Flat Panel) Antitrust Litig., MDL No. 1827.
Defended Samsung Electronics companies in civil price-fixing class actions regarding static random access memory chip products. In re SRAM Antitrust Litig., MDL No. 1819.
For MediaNews Group and California Newspapers Partnership, blocked private antitrust challenge to acquisition of Contra Costa Times and San Jose Mercury News.
On behalf of MasterCard International Incorporated, secured dismissal of putative class action under California consumer privacy laws regarding highly publicized third party processor data security breach.
As national counsel, defended civil price-fixing and government enforcement actions regarding dynamic random access memory chip products. In re DRAM Antitrust Litig., MDL No. 1486.
Represented MasterCard International Incorporated in series of actions challenging foreign currency conversion practices under California's Unfair Competition Law, including five month trial and successful defense appeal of judgment in Schwartz v. Visa International Service Association, et al. (2005) 132 Cal.App.4th 1452 (rev. granted 2005; rev. dismissed 2007).
In numerous separate actions, defended and obtained favorable settlements for Samsung Electronics distribution and marketing companies against claims of false and misleading advertising of inkjet printers, MP3 players and hard disk drives, respectively, under California's Unfair Competition Law, False Advertising Law and Consumers Legal Remedies Act.
Obtained dismissal for MasterCard International Incorporated in representative action challenging payment card chargeback practices under California's Unfair Competition Law.
Represented major national retailer in consolidated consumer privacy class actions for purported violations of California's Song-Beverly Credit Card Act.
Participated in successful trial defense of The Hearst Corporation in private antitrust action challenging acquisition of the San Francisco Chronicle. See Reilly v. The Hearst Corporation, et al. (N.D. Cal. 2000) 107 F.Supp.2d 1192, 2000-2 Trade Cas. (CCH) ¶ 72,992.
Thought Leadership
Articles
Profiles
Publications
Northern District of California Releases Comprehensive Procedural Guidance for Class Action Settlements, Los Angeles & San Francisco Daily Journal, November 15, 2018
Inside The EU's Overcharge Pass-On Study, Law360, October 27, 2016
The New Face of Antitrust Investigations in China, Daily Journal, October 23, 2013
The Case For Eliminating ACPERA's Supplemental Cooperation Requirement For Amnesty Applicants, Competition: The Journal of the Antitrust and Unfair Competition Law Section of the State Bar of California, Vol. 20, No. 2, Fall 2011
Contributing author, Model Jury Instructions in Criminal Antitrust Cases, ABA Section of Antitrust Law (2009)
Contributing author, California State Antitrust & Unfair Competition Law, The State Bar of California Antitrust and Unfair Competition Law Section (2009)
California Enacts New E-Discovery Rules (July 2009)
Yes, We Really Do Have Amnesty: District Court Enforces DOJ Corporate Leniency Agreement, Dismisses Indictment Against Stolt-Nielsen And Company Executives (January 2008)
Plaintiffs Plead Your Plus Factors: Supreme Court Steps Up Antitrust Conspiracy Pleading Requirements (June 2007)
Second Circuit Affirms Dismissal of Merchant's Section One Challenges to MasterCard Rules (December 2006)
Memberships
American Bar Association, Antitrust Section
California Lawyers Association – Antitrust, UCL and Privacy Section
Executive Committee, Antitrust and Business Regulation Section of the Bar Association of San Francisco