Overview
Adam Streisand is a trial lawyer whose success in courtrooms across the country has been recognized worldwide. As recently explained by the Los Angeles Business Journal,
If you've seen it on HBO's "Succession," Adam Streisand has litigated it (and much more) in real life. Celebrities, musicians, pro sports franchises, athletes, and some of the world's wealthiest individuals and families turn to Streisand for battles over inheritance, fiduciary conduct and business succession. While Streisand is known for his sweeping victories in high-profile courtroom battles involving celebrity estates, he has also become the go-to trial lawyer whenever the fate of a national sports franchise is on the line, including trust wars over control of the LA Lakers, LA Clippers, LA Chargers and Baltimore Orioles.
Streisand earned acclaim as Britney Spears' first choice of attorney in her conservatorship case and is featured in The New York Times' "Framing Britney Spears," Netflix's "Britney vs Spears," Hulu's "Controlling Britney Spears," and Discovery+'s "Jamie Vs Britney: The Father Daughter Trials."
As Bill Plaschke of the Los Angeles Times wrote: "Streisand was the lawyer who … rescued both local NBA teams." Mr. Streisand's trial victory for former Microsoft CEO Steve Ballmer against Donald Sterling resulted in Ballmer's $2 billion purchase of the Los Angeles Clippers. But, as the Los Angeles Daily Journal explained, what captured the legal world completely by surprise was his "particularly adept legal gambit involving a rarely invoked clause of California's probate code" that made it all happen. As the Los Angeles Times noted, two years later, "Adam Streisand carried the future of the Lakers into Room 629 at the Stanley Mosk Courthouse in downtown Los Angeles. The veteran attorney is no stranger to high profile cases…. In a very real way, he [was] being asked to save the Lakers." As ESPN reported, "Jeanie Buss and her lawyer Adam Streisand won a decisive legal victory to prevent a coup attempt."
The accolades for Mr. Streisand's stature in the legal profession are legion. "Adam Streisand is widely regarded as one of the nation's top trial attorneys, particularly in high profile litigation involving private wealth disputes, fiduciary litigation, business succession and partnership disputes and litigation involving trusts, estates and conservatorships" (Los Angeles Business Journal, "Top Litigators", August 13, 2018). The legal newspaper, The Daily Journal, profiling Mr. Streisand on the cover of its "Extra" section, called him "The Sure Thing" and noted that his resume is "a lawyer's C.V. on steroids." Mr. Streisand was named the Trusts and Estates Litigator of the Year in the United States in 2019 by Chambers HNW. The Daily Journal says: "From his victory in the landmark copyright case, Newton v. Diamond, in which he represented the Beastie Boys and Capitol Records … Streisand has transitioned into a nationally recognized trust and estate litigator. His practice is unique in that he is the rare lawyer in the field with an expertise in disputes involving entertainment and intellectual property issues. He's been in courtroom battles over the estates of Michael Jackson, Ray Charles, Marlon Brando, Michael Crichton, Anna Nicole Smith, Rodney Dangerfield, Dennis Hopper, William Randolph Hearst and many more." The Hollywood Reporter named Mr. Streisand a "Power Lawyer." The National Law Journal named Mr. Streisand "Trust & Estates Trailblazer." Worth magazine named him as one of the "Top 100 Attorneys in Trusts and Estates" in the country. Citywealth magazine named him one of the top 50 private wealth attorneys in North America, one of the top 100 private client lawyers worldwide and one of the top 100 litigation attorneys worldwide. The Los Angeles Business Journal presented Mr. Streisand with its Leaders in Law Award as "Litigation Attorney of the year" in 2017. The Daily Journal named Mr. Streisand one of the "Top 100" lawyers in California. The Los Angeles Business Journal named Mr. Streisand one of the top 100 lawyers in Los Angeles County and one of the "LA500: Most Influential People in Los Angeles". Lawdragon named Mr. Streisand one of the 500 "Leading Lawyers" in America, and one of the top 500 trial lawyers in the country. Lawdragon says, "Adam Streisand is easily one of the best trust and estate litigators in the country." Trusts & Estates magazine says Mr. Streisand "is a trial lawyer renowned for his courtroom victories in celebrity estates." The American Lawyer says he "is a veteran of battles over the estates of Marlon Brando and Ray Charles."
But the accolades that matter most to Mr. Streisand are the many heartfelt words of appreciation he receives from his clients, particularly in matters that are not high profile at all, but are just as important, such as this recent note:
As you can imagine, we are thrilled with your results, and cannot thank you enough for how expeditiously and eloquently you handled this matter. You are a master at your craft, the best of the best! Going into this, we were aware of your standing in the legal community which is one of the reasons we chose you as our representation. Thank you for taking an unfair & stressful situation, at a very sad and anxious time in our lives, and making "it" go away. Over the years, I've had my share of dealing with other attorneys through business, and have rarely been pleased with the time frame or outcome of the results. It has truly been a pleasure having you as our counsel, your personable demeanor, coupled with your wit & intellect has made this a very successful and rewarding experience for us and for that I am very grateful!
In addition to his law practice, Mr. Streisand teaches other lawyers the art and science of trial work as an instructor with the National Institute of Trial Advocacy and as a frequent lecturer and author. He is also active in authoring probate law, including legislation he drafted at the request of the Marilyn Monroe estate, to protect the right of a celebrity's heirs to control his or her name, image and likeness after death.
Experience
Experience
Numerous Multimillion-dollar Trial Victories for Petitioners
Mr. Streisand is well-known for his victories in courtroom battles over celebrity estates, including the estates of Ray Charles, Marlon Brando, Rodney Dangerfield, Alan Thicke, Michael Crichton and Barry White, his representation of Mrs. Katherine Jackson in the estate of Michael Jackson, Larry Birkhead in the estate of Anna Nicole Smith, and Britney Spears in her conservatorship proceedings, among many others. Mr. Streisand is equally acclaimed for his trial victories in some of the most complex cases in the probate courts. He obtained an eight-figure result for the widow of famed race car driver and high-performance automotive designer, Carroll Shelby. Mr. Streisand won a judgment in the eight figures, including an award of double damages, against a trustee, in a case involving the ownership of 70 real properties and 25 bank and brokerage accounts, unwinding 40 years of fraudulent creditor and tax avoidance schemes. (Follow the link to the Court of Appeal opinion affirming in full the trial court judgment.) Mr. Streisand won three successive trials against a former trustee, obtaining judgments for a total of more than $10 million, double damages, and attorneys' fees and costs. Mr. Streisand won a an action to remove a trustee together with $3 million in damages. Mr. Streisand has won numerous will and trust contests and actions to remove and impose damages on trustees and other fiduciaries. He has won numerous cases involving family law matters, such as community property issues and palimony claims, and obtained an award of twice the highest legal guidelines for child support in California in a trial to compel a parent to pay adult child support of behalf of his severely mentally disabled son. Winning in trial is the best leverage for obtaining favorable settlements. For example, Mr. Streisand obtained a $113 million settlement in an action by family members owning a minority interest in a public food service company against the CEO who was controlling the company as trustee of family trusts owning a majority block of the stock.
Multiple Victories in the Defense of Multimillion-dollar Estates
On the defense side, Mr. Streisand has achieved equally outstanding results. Mr. Streisand won summary judgement in the estate of Douglas Tompkins, founder of The North Face and Esprit apparel companies, defeating a contest with international implications and preserving hundreds of millions of dollars dedicated to creating and expanding national parks and wildlife preserves in Patagonia and elsewhere in South America. After plaintiff rejected a $120 million settlement offer, a guardian ad litem for trust beneficiaries, who was a retired Judge of the Orange County Superior Court, tapped Mr. Streisand to try the case for defendants. He succeeded in limiting plaintiff's community property claim in her husband's $350 million company to only $3.2 million. He achieved victory after a six-week trial in defense of a $25 million surcharge case, arising out of allegations of self-dealing by the trustee in redemptions of the trust's stock and options in a private REIT, among other claims. Mr. Streisand successfully defended a major law firm in a high-profile case alleging legal malpractice and fraud. He successfully defended corporate trustees in a $57 million surcharge and removal case, alleging self-dealing and conflicts of interest. Mr. Streisand won summary judgment for the trustees of the Mark Hughes Trust in an action to surcharge and remove them based on allegations that as trustees and as officers and directors of Herbalife, the company founded by Mark Hughes, they enacted poison pills, golden parachutes and other anti-takeover devices to entrench and enrich themselves at the expense of the beneficiary. Mr. Streisand won at trial to defeat a former trustee and beneficiary who claimed millions in trustee fees and damages based on breaches of fiduciary duty, and millions in alleged trust distributions. Mr. Streisand won four motions in a row for the primary beneficiary and fiduciaries of a nine-figure estate of a prominent British Lord until the case was dismissed in its entirety. Plaintiffs claimed that the estate's representatives transferred assets through a worldwide web of trusts to deprive plaintiffs of their inheritance. Mr. Streisand successfully defended the National Parkinson Foundation in a trial of a will contest by disgruntled beneficiaries claiming that the decedent improperly revoked his participation in mutual wills. The case was affirmed on appeal by the Second District Court of Appeal at 2003 WL198712. Mr. Streisand won a trial of a will contest alleging fraud, undue influence and lack of testamentary capacity concerning the $60 million estate of a prominent Canadian businessman. Mr. Streisand successfully defended the estate of an octogenarian against a claim by an exotic dancer in her twenties that the decedent promised to leave half of his estate to her.
Successful Representations of Celebrities in the Courts
Some of Mr. Streisand's other victories in celebrity and entertainment cases include his victory in obtaining the dismissal of palimony claims by Coco Johnson against comedian and talk-show host Bill Maher. Mr. Streisand won summary judgment in the U.S. District Court for the Beastie Boys and Capitol Records in a landmark copyright case involving digital sampling and affirmance on appeal in the 9th Circuit. Newton v. Diamond, et al., 349 F.3d 591 (9th Cir. 2003), 204 F.Supp.2d 1244 (C.D. Cal. 2002) (follow the link to see the 9th Circuit opinion). Mr. Streisand secured a multimillion-dollar judgment in an arbitration by proving that Franchise Pictures breached a distribution agreement for the motion picture Plan B starring Diane Keaton. Mr. Streisand obtained a permanent injunction for the famed ocean explorer, Jacques Yves Cousteau, in an action against his son, Jean-Michel Cousteau, to protect against the commercialization of the Cousteau name by its use in connection with a Fiji resort.
Honors
Honors
Who's Who in Law, Los Angeles Business Journal, 2023
Power Lawyer: Troubleshooters, The Hollywood Reporter, 2022-2023
Top 100 Lawyers, Daily Journal, 2022
Top 100 International Private Client Litigation Lawyers, Citywealth, 2022 - 2023
Top 100 Private Client Lawyers (Worldwide), Citywealth, 2021
Power Lawyer, The Hollywood Reporter, 2021
Leaders of Influence: Top Litigators and Trial Lawyers, Los Angeles Business Journal, 2020, 2022, 2023
Top 100 Trust Litigators (Worldwide), Citywealth, 2020
Litigation Star, Benchmark Litigation, 2020-2023
U.S. Trusts & Estates Litigator of the Year for 2019 by Chambers and Partners HNW
Named a "Global Elite" in Legal Week's Private Client Global Elite Directory, 2019-2023
"LA500: Most Influential People in Los Angeles," Los Angeles Business Journal, 2018-2023
Received highest ranking, Nationwide Private Wealth attorney, Chambers and Partners, 2011-2023
Received highest ranking, High Net Worth Litigation Specialist in California, Chambers and Partners, 2011-2022
Top Litigators in Los Angeles, Los Angeles Business Journal, 2018
"Litigation Attorney of the Year," Los Angeles Business Journal, 2017
Top 100 Lawyers in California, Los Angeles and San Francisco Daily Journal, 2010, 2015, 2017, 2018
Named "Trust & Estates Trailblazer," The National Law Journal, 2016
Named one of "California's Top 100 Lawyers," Los Angeles Daily Journal (2015)
Named a "Leading Lawyer" in the Lawdragon 500 Leading Lawyers in America, 2013-2018
Trust and Estates Lawyer of the Year, Century City Bar Association, 2015
America's Leading Lawyers for Business, in California Tax: Estate Planning (also recognized in 2010, 2016 editions)
Named one of "LA's Top 100 Lawyers" in the Los Angeles Business Journal's "Who's Who in LA Law," 2009
Named one of "The Top 100 Attorneys" in Trusts and Estates, Worth magazine, 2008
Named "Best Lawyer" in Trust and Estates Litigation, The Best Lawyers in America, published by Woodward/White, Inc., 2008-2024
Fellow, American College of Trust and Estate Counsel (ACTEC)
Attorney Member, National College of Probate Judges
Recipient, Wiley W. Manuel Award for Pro Bono Legal Services, Board of Governors of the State Bar of California
Named in "Southern California Super Lawyers" in Trust & Estate Litigation, a Thomson Reuters business, 2004-2023; Listed in the Top 100 Southern California Super Lawyers, 2014
Named a "Top Rated Litigator" by Legal Leaders, 2021-2022
Named a "Leading Lawyer" in the Lawdragon 500 Leading Lawyers in America, 2010
Named a "Leading Litigator" in the Lawdragon 500 America's Leading Trial Lawyers, 2006
Highest "AV Preeminent (5 out of 5)" Professional Rating, Martindale-Hubbell Law Directory
Recommended in the Citywealth "Leaders List" by Jones Publishing Limited, 2011-2014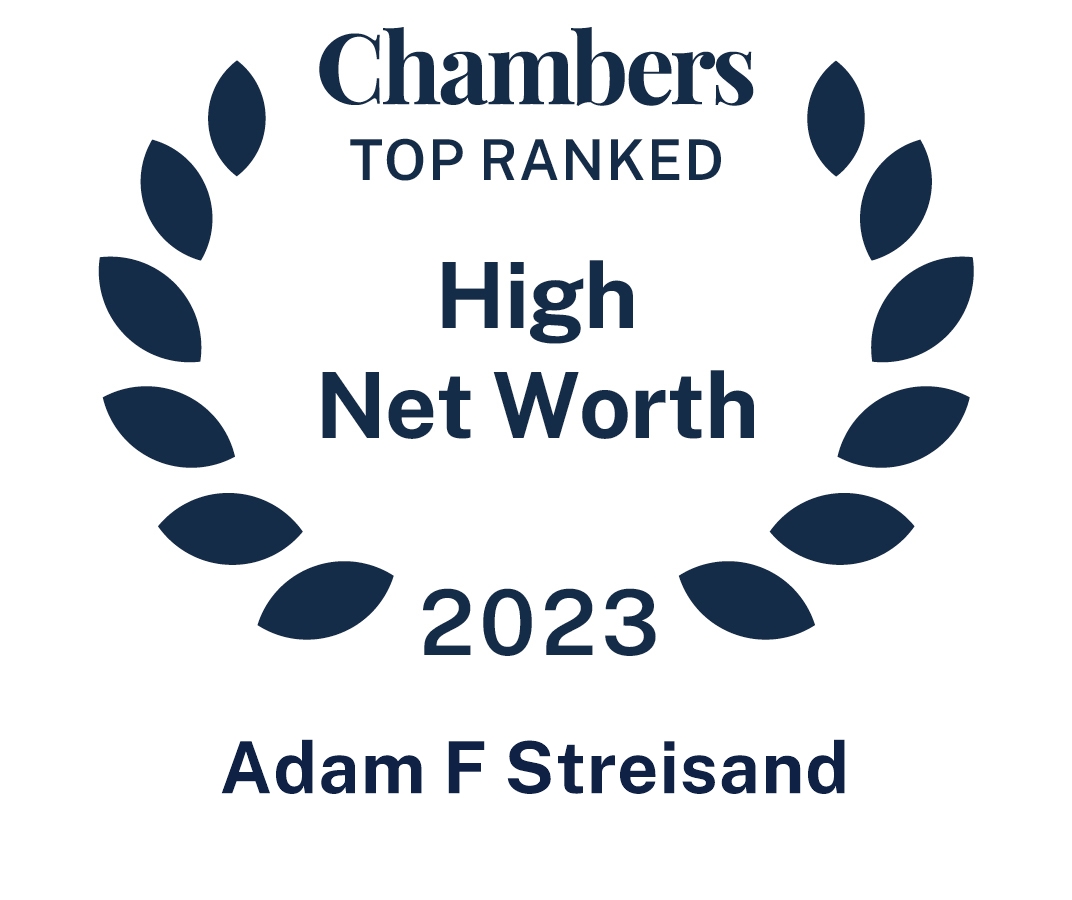 Insights
Articles
Trusts & Estates Quarterly

,

Spring 2022 Issue

Estate Planning Course Materials Journal

,

January 2022

L'Ordonnance de Protection Française en Perspective d'Autres Législations Nationales

Actualité Juridique Famille (juillet-août 2020)

Cornell International Law Journal, Volume 54 Number 4

,

Fall 2020

California Trusts and Estates Quarterly – Volume 25, Issue 4

,

2019

Trust and Estates Quarterly – Volume 24, Issue 3

,

2018

National Law Review

,

08.21.2018

California Trusts and Estates Quarterly

,

2012

California Trusts and Estates Quarterly

,

2012

Estate Planning & Community Property Law Journal, Vol.3, Book 2

,

Spring 2011

ABA Trust & Investments

,

11.2009

The Marital Deduction and IRC Sections 2511, 2519 and 2207A: A Three-Headed Hydra

California Trusts and Estates Quarterly

,

Winter 2008

American College of Trust and Estate Counsel Journal

,

Fall 2008

The Hollywood Reporter

,

11.06.2007

California Trusts and Estates Quarterly

,

Spring 2006

California Trusts and Estates Quarterly

,

Spring 2005

California Trusts and Estates Quarterly

,

Summer 2004

California Trusts and Estates Quarterly

,

Spring 2004

California Trusts and Estates Quarterly

,

Spring 2003

California Trusts and Estates Quarterly

,

Spring 2002
International Arbitration Law Blog Posts
Media Mentions
Los Angeles Times

,

04.12.2023

Nouvelles Du Monde

,

01.24.2023

Los Angeles Business Journal 

,

01.23.2023

Litigator of the Week Runner-Up and Shout Outs

The American Lawyer

,

01.13.2023

New York Post

,

12.12.2022

Son Louis Angelos Denies Mother's Allegations in Escalating Battle Over the Orioles, Peter Angelos' Law Firm

Baltimore Sun

,

09.15.2022

Baltimore Sun

,

06.28.2022

Chargers Legal Feud May Invoke Thorny NFL Family Trust Issues

NBC San Diego

,

06.10.2022

Front Office Sports

,

06.10.2022

CNN Newsroom With Pamela Brown

,

10.03.2021

America's Newsroom with Bill Hemmer & Dana Perino - FOX News

,

09.30.2021

Cuomo Prime Time - CNN

,

09.29.2021

Is Britney [Spears] free of her dad?

Your World with Neil Cavuto - FOX News

,

08.13.2021

CNN Newsroom with Pamela Brown

,

07.17.2021

America's Newsroom w/Bill Hemmer & Dana Perino – FOX News

,

07.15.2021

Your World with Neil Cavuto - FOX News

,

07.14.2021

Cuomo Prime Time - CNN

,

07.14.2021

Cuomo Prime Time - CNN

,

07.07.2021

Cuomo Prime Time - CNN

,

07.06.2021

Cuomo Prime Time - CNN

,

06.23.2021

Deep Background with Noah Feldman

,

03.24.2021

The New York Times

,

02.05.2021

ESPN Films and ESPN Audio's 30 for 30 Podcasts

,

08.20.2019

The Washington Post

,

03.04.2019

San Francisco Chronicle

,

10.11.2018

Los Angeles Times

,

07.03.2018

ACTEC Trust & Estate Talk Podcast

,

02.20.2018

New York Post

,

12.06.2017

Daily Journal

,

09.20.2017

Trailblazers: Divorce, Trusts & Estates

The National Law Journal

,

2016

New York Times

,

11.08.2013

Daily Journal

,

06.13.2005
Speaking Engagements
"Mental Capacity," International Trusts and Estates Litigation Forum, Private Client Global Elite, Germany, December 8, 2021
"Conférence exceptionnelle avec Adam Streisand, premier avocat de Britney Spears," Sciences Po, Paris France, December 6, 2021
"War Stories with Adam Streisand," Beverly Hills Bar Association, November 15, 2021
"Hide and Seek, Tactics and Discovery in Cross-Border Litigation," Forum on International Wealth Disputes, Cambridge Forums, Athens, Greece, October 2021
"Expert Witnesses in Trust and Estate Disputes," Cambridge Forum for Private Wealth Litigation, Scottsdale, Arizona, September 2021
"It's Britney, barristers," Private Client Global Elite, April 15, 2021
"Heartbroken or Just Broken? How Trusts Fare in Divorce," The American College of Trust and Estate Counsel, October 2020
"Winterfell, Iron Islands, or Dorne: Where Will the Battle Rage and Which Kingdom Will Rule?" Cambridge Forum for Private Wealth Litigation, February 2020
"Litigating Against The Unduly Influenced Litigant," Beverly Hills Estate Planning Council, December 2019
"Mystery in a Mumu: What Makes Your Judge Tick?" Interview with Hon. Mitchell L. Beckloff and Hon. Mary Thornton House (Ret.), USC Trust and Estate Conference, Los Angeles, November 2019
"Crypto and Blockchain 101 for California Estate Planners, Fiduciaries, and Fiduciary-Litigation Counsel", San Francisco Estate Planning Council, May 2019
"The Unduly Influenced Litigant: How to Litigate Against Parties with Diminished Capacity", Probate Attorneys of San Diego, April 2019
"Succession: Controversies Where the Crown Jewel is the Family Business", Cambridge Forum on Private Wealth Disputes, New Orleans, April 2019
"International Trust Litigation Trends", Forum of the Americas, ALM Legal Week, Newport Beach, California, March 2019
"International Trust Disputes: Conflicts of Laws", International Trusts and Estates Forum, ALM Legal Week, Girona, Spain, March 2019
"The Unduly Influenced Litigant: How to Litigate Against Parties with Diminished Capacity", Orange County Bar Ass'n, Orange, California, March 2019
"The Unduly Influenced Litigant: How to Litigate Against Parties with Diminished Capacity", USC Trust and Estate Conference, November 2018
"Succession: Best Laid Plans of Mice and Men Often Go Awry", East Bay Trust and Estate Lawyers Conference, November 2018
"Cross-Border Capacity Litigation", Forum on International Wealth Disputes, Versailles, October 2018
"Pre-Death Will Contests: Rumors of My Death Have Been Greatly Exaggerated", Forum on Private Wealth Litigation, Scottsdale, AZ, April 2018
"What Should Attorneys have in their Engagement Agreements," ACTEC Trust and Estate Podcast, February 2018
"Freedom of Testation," Forum on International Wealth Disputes, Barcelona, Spain, October 2017
"New Model Engagement Agreements," lecture and podcast, American College of Trust and Estate Counsel, Nashville, TN, October 2017
"Representing the Incapacitated Business or Property Owner", Fiduciary Attorney Summit, Lake Tahoe, Nevada, January 2017
"Representing the Client with Diminished Capacity, Legal and Ethical Issues", Desert Estate Planning Council, Rancho Mirage, California, January 2017
"Arbitration and Trials in Civil and Common Law Jurisdictions," Forum on International Wealth Disputes, Venice, Italy, October 2016
CEB Advanced Trusts and Estates Litigation, March 2015
Century City Bar Association's 47th Annual Installation Banquet & Awards Ceremony, March 2015
"Legal and Ethical Dilemmas in Representing Clients with Diminished Capacity," CalCPA Annual Conference, January 2015
"Consider That A Divorce: Litigating the Post-Death Divorce," 40th Annual USC Trust and Estate Conference, November 2014
"Brain Mappers: The New Maggellans," American College of Trust and Estate Counsel, November and June 2014
"Intentional Interference with Inheritance: Is it a Brave New World in Probate?" State Bar of California Webinar, April 2013
"Intelligent Planning for Intellectual Property," Heckerling Institute in Estate Planning, January 2013
"Ethical Challenges in Estate Planning and Administration," 2012 Professional Advisor Speaker Series, Jewish Community Foundation of Los Angeles, October 2012
"Malpractice and Ethics Issues for Estate Planners," San Fernando Valley Estate Planning Council, May 2012
"Rumors of Their Deaths May Be Exaggerated: Conservatorships and Pre-Death Litigation," USC Trust & Estate Conference, November 2011
Advanced Trust and Estate Litigation (CEB), December 2010
"Current Ethical Issues for Estate Planners, ALI-ABA and American College for Trust and Estate Counsel (ACTEC), October 2010
"Malpractice Melee: Fighting off the Disgruntled and Disappointed," A T&E Lawyers Field Guide, American Academy of Estate Planners Annual Conference, October 2010
"Copy This: Intelligent Planning for Intellectual Property Rights," American College of Trust and Estate Counsel (ACTEC), April 2010
"Will Contest or Contest of Wills, Life After 21320," Orange County Bar Association, February 2010
"Litigation and Settlements - Estate and Income Tax Issues," Advanced Estate Planning Institute, CalCPA Education Foundation, January 2010
"Malpractice Melee: Fighting off the Disgruntled and Disappointed," A T&E Lawyers Field Guide, November 2009
"Dealing with the Difficult or Impaired Client," American Bankers Association's Teleconference, November 2009
"Ethical Issues Affecting Estate Planners," ALI-ABA and American College for Trust and Estate Counsel (ACTEC) Webinar, October 2009
"Lawsuits Against Lawyers for the Plan You Do and the Plan You Don't," ACTEC Annual Meeting, March 2009
Advanced Course on Trust and Estate Litigation, CEB, December 2008
"No-Contest Clauses: The Never Ending Drama," State Bar Annual Meeting, September 2008 and State Bar Road Show, November 2008
"Getting into the Client's (Testator's) Head: A Lawyer's Guide to Diminished Capacity and Use of Medical Experts," ACTEC Fall Meeting, October 2008
"A Lawyer's Guide to Diminishing Capacity," UCLA/CEB Estate Planning Institute, May 2008
"Will Contests, No-Contest Clauses and Safe Harbors," Center for Judicial Research and Education (CJER), November 2006
"The Stripper, Playboy Playmate, and Reality Show Train Wreck, the Billionaire Oilman, a Scheming Son and Nine Supreme Court Justices: The Havoc Has Only Begun," Los Angeles County Bar Association, October 2006
"How to Try and Defend Will and Trust Contests," State Bar Annual Meeting, October 2006
"Estate Litigation: Tactical Issues, Case Studies and Resolution Scenarios," Advanced Course of Study, CEB, September 2006
"No Contest Clauses: The Never Ending Drama," Orange County Estate Planning Council, September 2006
Anna Nicole Smith and the Probate Exception to Federal Court Jurisdiction, September 2006
"To Tell The Truth (A T&E Lawyer's Version): Will My Real Client Please Stand Up?" UCLA/CEB Estate Planning Institute, May 2006
"May the Force Be With You: Private Attorney General Actions To Enforce Charitable Donations," Beverly Hills Bar Association, January 2006
"Trust and Estate Litigation: Tactical Issues, Case Studies, and Resolution Scenarios," CEB, December 2005
"Charlie Creditor and the Probate Factory: The Golden Ticket to Preserving Your Claim," USC Probate and Trust Conference, November 2005
"Rip, Mix, and Burn, Baby! Will Digital Music Sampling Overtake the Music Industry?" Los Angeles County Bar Association, November 2005
"Trust and Estate Litigation: Pointers and Pitfalls," State Bar of California, November 2004
"New Ideas to Keep Litigious Beneficiaries at Bay and Protect Trustees," Southern California Trust Officers Association, October 2004
"Trust and Estate Litigation: Pointers and Pitfalls," Annual Meeting State Bar of California, October 2004
"Estate Litigation: Strategies for Ending the Family Feud," CEB Los Angeles, October 2004, San Diego, September 2004
"Demonstration of a Contested Trust Matter," Mock Trial Program State Bar of California, April 2004, November 2003
"Estate and Trust Litigation," CEB, February 2004
"Advanced Trial Skills," National Institute for Trial Advocacy, 2004, 2002, 2001, 1999
"Will and Trust Contests," Century City Bar Association, August 2003
"When Trustees Go Bad/When Beneficiaries Attack," Beverly Hills Bar Association, November 2002
"Litigating Capacity and Undue Influence," Century City Bar Association, December 2001
"Demonstration of a Disputed Will and Trust Matter," Mock Trial Program State Bar of California, August 2001
"New Developments in Drafting No-Contest Clauses," Century City Bar Association, April 2001
"Taking and Defending Depositions," National Institute for Trial Advocacy, 2001, 2000
"Representing Trustees after Moeller and Boltwood," Century City Bar Association, May 2002
Memberships
Memberships
Steering Committee, Forum on International Wealth Disputes
Former Member, Executive Committee, Section on Trusts and Estates, State Bar of California
Former Executive Editor, California Trusts & Estates Quarterly
Fellow, American College of Trust and Estate Counsel (ACTEC)
Member, Long-Range Planning Committee, Fiduciary Litigation Committee and Professional Responsibility Committee of ACTEC
Member, Planning Committee of UCLA/CEB Estate Planning Institute
Member, CEB Estate Planning Advisory Committee
Member, Planning Committee of the USC Probate and Trust Conference
Faculty Member, National Institute for Trial Advocacy (NITA)
Former Chair, Trusts and Estates Section, Century City Bar Association
Former Board Member, Constitutional Rights Foundation (CRF)
Former Member, Development Committee, Project Angel Food
Former Member, Development Committee, Alzheimer's Association
Volunteer Attorney, Bet Tzedek Legal Services, offering pro bono publico legal services to the poor and elderly
Education
J.D., American University, 1991, cum laude, Honor Society, Editorial Staff, American University Law Review
B.A., Trinity College, 1985