Overview
Nicholas Van Brunt is a partner in the Business Trial Practice Group and is the Team Leader of the firm's Private Wealth Services Team.
Areas of Practice
Nicholas focuses his practice on resolving disputes over trusts, estates, conservatorships, and other fiduciary matters. A respected member of the Los Angeles legal community, Nicholas is known as a pragmatic and effective trusts and estates litigator who seeks to achieve favorable results for his clients through skillful negotiation, strategic counsel and deft trial work. Whether in the courtroom or at mediation, it is his ability both to advocate passionately and effectively for his clients and to counsel clients compassionately but credibly that has helped him consistently achieve favorable outcomes in various contexts.
Nicholas has developed an impressive roster of clients who value his discretion, experience and accessible approach. His clients include individuals, non-profit organizations and corporate entities, whom he represents in matters large and small. His typical client matters include will and trust contests, breach of fiduciary duty cases, trustee accounting matters, conservatorship proceedings, and cases involving the intersection between probate law and other legal issues.
Nicholas also has substantial general business litigation experience, including disputes arising in labor and employment, intellectual property, securities, real estate, professional responsibility matters, judgment collection, bankruptcy matters, and general breach of contract and tort actions.
Nicholas is actively engaged in the Los Angeles County Bar Association (LACBA), as a member of the Executive Committee of the LACBA Trust & Estates Section and served for two years as the Chair of the Court Appointed Counsel Liaison Committee, which is responsible for producing several training programs each year throughout Los Angeles County for court-appointed attorneys in conservatorship and guardianship matters.
Nicholas is a member of the Executive Committee of the Trusts and Estates Section of the California Lawyers Association (CLA), which is the bar association for all California attorneys, and which has the mission of furthering the knowledge of practitioners in the areas of trusts and estate laws through educational opportunities, monitoring and actively participating in the formation of laws and regulations that impact trusts and estates laws, and representing section members in the governance of the CLA.
Nicholas is also very involved in pro bono matters on behalf of both individuals and non-profit organizations. He has led the firm's effort to represent unaccompanied minors in Special Immigrant Juvenile Status cases in partnership with Bet Tzedek Legal Services, serves on the firm's Pro Bono Committee, and regularly acts as a Probate Settlement Officer with the Los Angeles County Superior Court's Pro Bono Probate Settlement Program, offered through the San Fernando Valley Bar Association.
Experience
Experience
A few of Mr. Van Brunt's representative matters include the following:
Obtained stipulated resignation of individual trustee after first morning of trial seeking his removal from office.
Secured order appointing conservator and invalidating the power of attorney of an individual who commingled funds and engaged in other breaches of fiduciary duty over his nonagenarian father.
Won a trial concerning the interpretation of several clauses of a 100+ page trust instrument, resulting in a seven-figure benefit to the client. Successfully defended the appeal, resulting in the trial victory being affirmed in full.
Successfully obtained conservatorship over person and estate of client's parent in connection with estate valued in excess of $30,000,000, where allegations of elder abuse and undue influence necessitated protection of the client's parent.
Successfully defended appeal of $40 million judgment against client's sibling who had attempted to misappropriate assets from his parents' trust and estate for himself and then won over $5 million in additional judgments against same sibling in multiple subsequent trials.
Successfully defended directors of non-profit foundation that provides millions of dollars to various charitable beneficiaries in binding arbitration.
Successfully defeated contest to a will before it even got out of the starting gate.
Member of team that successfully represented current owner of National Basketball Association franchise in high-profile litigation concerning the sale of that team.
Obtained numerous favorable settlements for individual trustees, individual beneficiaries, corporate trustees and entities, and nonprofit organizations, both through mediation and face-to-face negotiation.
Historical Experience:
Prior to joining Sheppard Mullin, Mr. Van Brunt was a partner of Loeb & Loeb, LLP, in the Trust and Estate Litigation group. Mr. Van Brunt began his legal career as an associate in the litigation department of White & Case LLP's Los Angeles office.
Honors
Honors
Named "Best Lawyer" in Trust and Estates Litigation, The Best Lawyers in America, published by Woodward/White, Inc. (2015-2024)
Named "Super Lawyer" in Estate and Trust Litigation, Super Lawyers (2015-2023)
Named "Rising Star" in Estate and Trust Litigation, Super Lawyers (2013-2014)
Named "Ranked Individual" in Private Wealth Disputes in California, Chambers High Net Worth (2018-2023)
Named "Up and Coming" lawyer in Private Wealth Disputes in California, Chambers (2018-2019)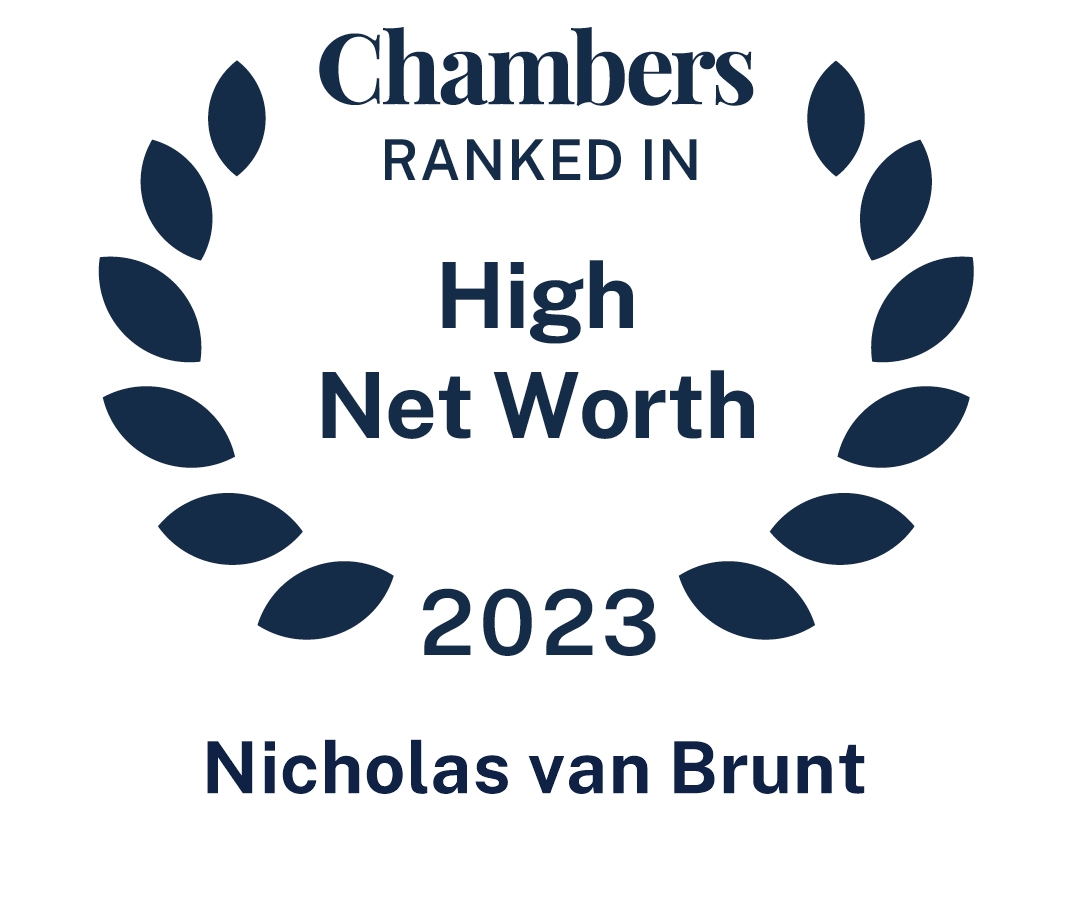 Insights
Articles
California Trusts and Estates Quarterly – Volume 23, Issue 4, 2017
"Litigation Tools: Civil Financial Elder Abuse Claims – A Primer" - California Lawyers Association's 3rd Annual Financial Elder Abuse Symposium, May 20, 2022
"Trust, Probate & Conservatorship Annual Litigation Update," BHBA's Trusts & Estates Section, May 17, 2022
"Are You My Client? Are You Really My Client? Are You Really Sure?" – Woodland Hills Tax and Estate Planning Council, May 3, 2022
"Trust, Probate & Conservatorship Annual Litigation Update," Ventura County Bar Association, February 24, 2022
"Trust, Probate & Conservatorship Annual Litigation Update," Beverly Hills Estate Planning Council, February 7, 2022
"Trust, Probate & Conservatorship Annual Litigation Update," South Bay Bar Association, November 18, 2021
Media Mentions
Finding a Connection

Daily Journal

,

01.13.2023
Speaking Engagements
Moderator, "War Stories with Adam Streisand," BHBA's Litigation Section, November 15, 2021
"2021 Aviva K. Bobb Advanced Court Appointed Counsel Training", Los Angeles County Bar Association Trusts and Estate Section, October 2, 2021, with the Honorable Brenda J. Penny, Judge
"Trust, Probate & Conservatorship Annual Litigation Update," BHBA's Trusts & Estates Section, May 18, 2021
"Litigation Tools: The Nuts and Bolts of a Civil Financial Elder Abuse Claim," California Lawyers Association's 3rd Annual Financial Elder Abuse Symposium, May 7, 2021
"Trust, Probate and Conservatorship Annual Litigation Update," San Luis Obispo County Bar Association, April 28, 2021
"Trust, Probate and Conservatorship Annual Litigation Update," Ventura County Bar Association, February 18, 2021
"Where There's A Will," Money You Should Ask Podcast with Bob Wheeler, December 28, 2020
"Trusts and Estates Updates and Developments," Woodland Hills Tax & Estate Planning Council, November 4, 2020
"Annual Probate, Trust and Conservatorship Litigation Update," South Bay Bar Association, June 17, 2020
"Trust, Probate & Conservatorship Annual Litigation Update," Beverly Hills Bar Association, May 19, 2020
"LACBA Minor's Counsel Training – Representing Minors in Probate Court Proceedings," Los Angeles County Bar Association, February 8, 2020
"Stay Out of That Chair! Tips for Today's Estate Planner," San Fernando Valley Bar Association, July 29, 2019
"Advisor Briefing & Dialogue: Managing Elder Care, Aging, and Incapacity," FOX Family Office Forum, Chicago, IL, July 16, 2019
"Annual Trusts, Probate and Conservatorship Litigation Update," Beverly Hills Bar Association, May 21, 2019
"Why, When and How to Bring a Revocable Trust Proceeding into a Related Conservatorship," Los Angeles County Bar Association, December 11, 2018
"2018 Aviva K. Bobb Advanced Probate Volunteer Panel Attorney Program," Los Angeles County Bar Association Trusts and Estate Section, November 3, 2018
"Know Your Limits: Limited Conservatorship PVP Trainings," Los Angeles County Bar Association Trusts and Estate Section, October 20, 2018
"Annual Trusts, Probate and Conservatorship Litigation Update," Beverly Hills Bar Association, May 15, 2018
"On Aging and Incapacity: Planning for a Complicated and Emotional Journey," Family Office Exchange Webinar, October 11, 2017
"Annual Trusts, Probate and Conservatorship Litigation Update," Beverly Hills Bar Association, May 16, 2017
"Think Smart: Protecting and Serving the Client in a Digital World," Moderator, Orange County Bar Association Trust & Estates Section MCLE, October 10, 2016
"Check Your Privilege: Issues of Privilege and Confidentiality in Trust and Estate Matters," San Fernando Valley Bar Association Probate Section, September 13, 2016
"Crossover Issues in Trust & Estate Law and Family Law," Orange County Bar Association Trust & Estates Section MCLE, October 6, 2015
"The 2014 Aviva K. Bobb PVP Attorney Advanced Training Program," Los Angeles County Bar Association Trust and Estate Section, November 2014
"Is This Line Secure? Issues of Privilege and Confidentiality in Trust and Estate Matters," 39th Annual USC Trust and Estate Conference, November 2013
"Making Your Case: Trial Advocacy in Probate Court," Los Angeles County Bar Association Trust and Estate Section, April 2013
"Evidence and Trial Skills Program for Trusts and Estates Attorneys," Los Angeles County Bar Association Trust and Estate Section, March 2013
"Ethical Challenges in Estate Planning and Administration," 2012 Professional Advisor Speaker Series, Jewish Community Foundation of Los Angeles, October 2012
Events
Litigation Tools: Civil Financial Elder Abuse Claims – A Primer

,

06.02.2023

Beverly Hills Bar Association

,

05.18.2021

California Lawyers Association's 3rd Annual Financial Elder Abuse Symposium

,

05.07.2021
Industries
Education
J.D., George Washington University, 2004, Notes Editor, American Intellectual Property Law Association Quarterly Journal
M.A., George Washington University (Elliott School of International Affairs), 2004
The University of Oxford and the George Washington University, Joint Programme in International Human Rights Law, 2001
B.A., University of California, Berkeley, 1999
Admissions
California
U.S. District Court for the Central District of California
U.S. District Court for the Northern District of California