Overview
Peter Carson is of counsel in the Finance & Bankruptcy Practice Group in the firm's San Francisco office and heads the firm's Legal Opinions Committee, and is a Core Member of the firm's ESG and Sustainability Team.
Areas of Practice
Peter's practice is focused on representing U.S. and foreign banks, commercial finance lenders, debt funds, and other institutional lenders. Peter represents these clients in all aspects of complex secured and unsecured debt financings, including acquisition, senior syndicated, asset-based, mezzanine, second lien, bridge, debtor-in possession, credit enhancement, private placement, leveraged lease and other financings, recapitalizations, and restructurings across a range of industries, such as healthcare, technology, retail, transportation and distribution, media and telecommunications, ski resorts, sport franchises, renewable energy and related infrastructure, food and beverage (including wineries), and agriculture.
In addition, Peter devotes a substantial portion of his practice to representing buyers, sellers and private equity deal sponsors in various types of merger and acquisition transactions (including mergers involving nonprofits) and to advising institutional lenders, private equity and company clients on Uniform Commercial Code, letters of credit, and other commercial law issues.
Since March 2020, Peter has also led the firm's Emergency Relief Task Force, advising clients and colleagues regarding the various federal and state government direct loan programs (including the Paycheck Protection Program and the Main Street Lending Program) and financial systems support programs in response to the COVID-19 crisis.
Honors
Honors
Best Lawyers in America, Best Lawyers, 2023-2024
Leading Lawyer in Banking and Finance (California), Chambers USA, 2007-2023; "Peter Carson is well known for his formidable finance practice, which is routinely employed by domestic and international lenders in a series of transactions."
Northern California Super Lawyer, Super Lawyers, 2005-2021
Go-To Thought Leader, National Law Review, 2021
Lawyer of the Year, Best Lawyers, 2015, 2017, 2018
Leading Lawyer in Banking Law and Structured Finance Law, Best Lawyers, 2007-2023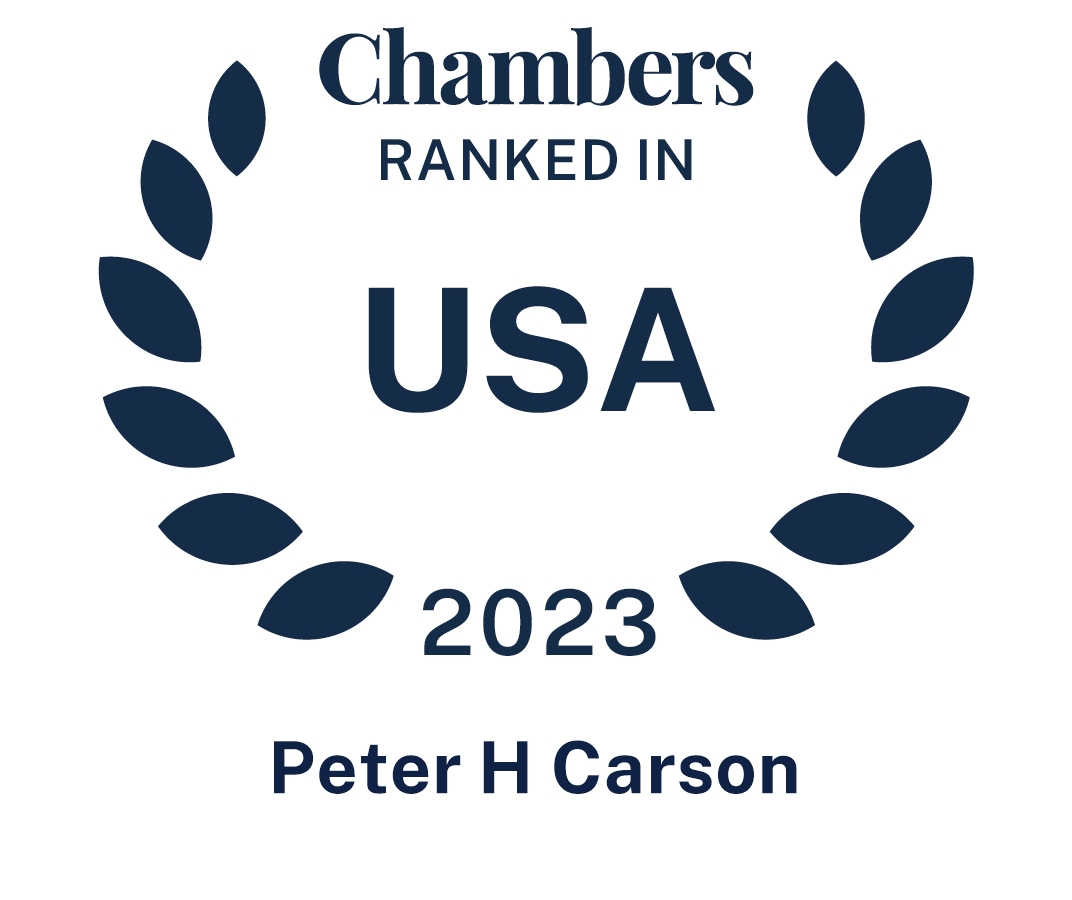 Insights
Articles
Blog Posts
"Paycheck Protection Program: SBA Issues Guidance on First Draw and Second Draw PPP Loans and Releases PPP Applications Pursuant to the Economic Aid Act," January 21, 2021

"The Save Our Stages Act – Time for Eligible Businesses to Get Ready for Their Audition (Part 2 of 2)," January 14, 2021

"The Save Our Stages Act – Time for Eligible Businesses to Get Ready for Their Audition (Part 1 of 2)," January 11, 2021

"The Reauthorization and Revival of the Paycheck Protection Program and Economic Injury Disaster Loan Program under the Economic Aid to Hard-Hit Small Businesses, Nonprofits, and Venues Act," December 31, 2020
"The October 2, 2020 SBA Procedural Notice: Change of Ownership Transactions Involving PPP Borrowers," October 5, 2020

"Interplay of Main Street Lending Program Documents (the Rights and Role of the Main Street SPV)," July 7, 2020

"Fed Provides Further Updates to Main Street Lending Program, Expanding Availability in Advance of Program Launch," June 10, 2020

"Fed Updates Main Street Loan Program," May 2, 2020

"Sheppard Submits Comments to Main Street Loan Program," April 17, 2020
"Main Street Lending Program Summary," April 10, 2020
Speaking Engagements
Frequent speaker on panels and programs relating to topics leveraged finance, UCC and other commercial law for the American Bar Association, ALI-ABA, and the California Bar Association
Panelist, 2018 Americas Annual Survey of Letter of Credit Law & Practice conference in Charlotte, North Carolina, March 15-16, 2018
Memberships
Memberships
Elected Member, American Law Institute
Past President and Member of Board of Regents, American College of Commercial Finance Lawyers
Life Fellow, American Bar Foundation
Opinions Committee of the California Lawyers Association
Member and Past Chair, Board of Trustees, Earthjustice
Past Chair, Secured Transactions Subcommittee of the Uniform Commercial Code Committee of the Business Law Section, American Bar Association
Past Chair, Letter of Credit Subcommittee of the Uniform Commercial Code Committee of the Business Law Section, American Bar Association
Past Chair, Uniform Commercial Code Committee; Past member, Executive Committee of the Business Law Section, State Bar of California
Past Co-Chair, California Legal Services Trust Fund (IOLTA) Commission
Past Member, Standing Committee on Pro Bono and Public Service, American Bar Association; Past Chair Pro Bono Committee of the Business Law Section, American Bar Association
Member, Board of Directors, East Bay Community Law Center
Member, Board of Directors, California Rural Legal Assistance
Past member, Board of Directors, California Bar Foundation, Bar Association of San Francisco Foundation; Bay Area Legal Aid; China U.S. Energy Efficiency Alliance; British American Business Counsel of the Bay Area; Mid-Peninsula Media Center
Digital Media
Digital Media
Education
J.D., University of California, Berkeley School of Law (Boalt Hall), 1985
B.A., University of California, Berkeley, 1980
Admissions
California
U.S. Supreme Court