Overview
Larry Eppley is a partner in the Corporate Practice Group in the firm's Chicago office. He is also the Leader of the firm's Hospitality Team.
Areas of Practice
Larry concentrates his practice on acquisitions, real estate finance, development, public and private finance, joint ventures and raising equity, particularly in the hospitality sector.
Previously, Larry was general counsel at Potbelly Sandwich Works, one of Chicago's fastest growing companies, and his clients rely on him as their principal outside legal counsel. He often works with middle-market and emerging growth companies, including those in the hospitality and restaurant sectors, and with structured and institutional finance.
Larry was named as one of Law360's Hospitality MVPs in both 2013 and 2016 for his extensive work in major transactions geared towards hotel development.
Experience
Experience
Representative Experience
Represent clients in connection with the acquisition, development and financing of hotel projects throughout the U.S.
Represent foreign investors in connection with U.S. real estate assets.
Represent emerging growth restaurant companies.
Represent major financial service institutions in connection with real estate financings.
Served as General Counsel of Potbelly Sandwich Works.
Representative Transactions
Godfrey Hotel, Detroit, MI
Westin Book Cadillac, Detroit, MI
5 Hotel Portfolio in San Francisco, Palo Alto, and Los Gatos, California
4 Hotel Portfolio in San Francisco, California
Hotel Indigo, New York, New York
Godfrey Hotel Hollywood, Los Angeles, California
ARLO Hotel, Chicago, Illinois
850 North Lake Shore Drive, Chicago, Illinois
The View, Jersey City, New Jersey
Bay Harbor Hotel, Tampa, Florida
Ventana Inn, Big Sur, California
Viera Manor, Melbourne, Florida
Carmel Valley Ranch, Carmel-By-The-Sea, California
Mondrian Soho, New York, New York
Essex Inn, Chicago, Illinois
29-26 Northern Blvd., Long Island City, New York
45-40 Vernon Blvd., Long Island City, New York
B Ocean Hotel, Ft. Lauderdale, Florida
Trump Soho, New York City, New York
Commune Hotel, New York City, New York
CAA Building Hotel, Chicago, Illinois
Hotel Lincoln, Chicago, Illinois
Crown Miami Beach Hotel, Miami, Florida
LondonHouse Hotel, Chicago, Illinois
330 North Wabash (former IBM Building), Chicago, Illinois
Godfrey Hotel, Chicago, Illinois
Temple Building Hotel, Boston, Massachusetts
Wyndham Chicago, 633 St. Clair, Chicago, Illinois
Doubletree Metropolitan Hotel, New York City, New York
Radisson Lexington Hotel, New York City, New York
Hotel Cass Chicago, Magnificent Mile, Chicago, Illinois
Felix Hotel, River North, Chicago, Illinois
Honors
Honors
Leading Lawyer, Leisure & Hospitality, Chambers USA, 2022-2023
Hospitality Editorial Advisory Board, Law360, 2017-2023
Illinois Super Lawyer, Super Lawyers, 2014-2018
Best Lawyer in America, Best Lawyers, 2013-2024
Hospitality Sector Lawyer of the Year in Illinois, Corporate Intl, 2018
Real Estate, Legal 500 US, 2014-2016, 2021
Hospitality MVP, Law360, 2013, 2016
Designated a "Distinguished Graduate of the College of Law" by the University of Illinois School of Law, 2002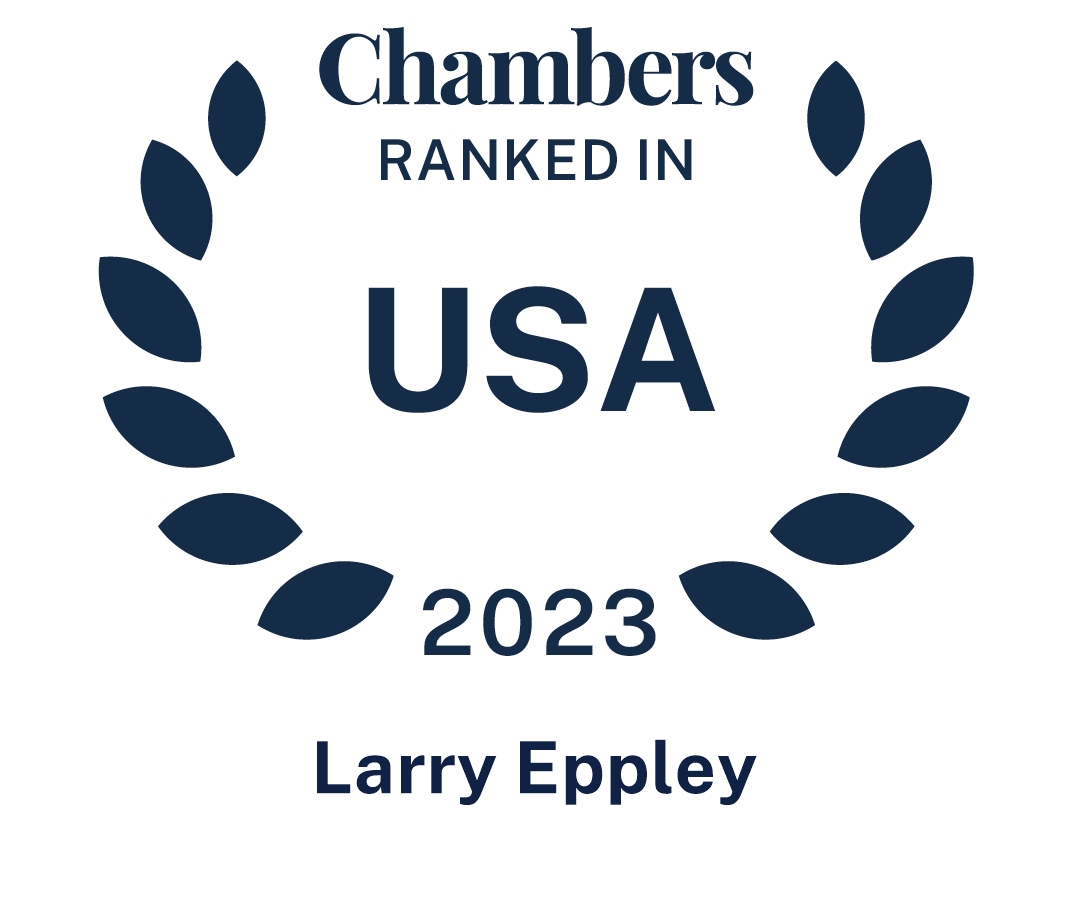 Insights
Articles
Illinois Institute for Continuing Legal Education

,

05.17.2023

Hotel Executive

,

December 2022 issue

Chicago Daily Law Bulletin

,

03.24.2021

Hotels Magazine

,

03.31.2020
Larry writes articles on subjects of commercial real estate for the Illinois Institute for Continuing Legal Education and has lectured for CLE International, Inc. He is a contributing author for IICLE's Commercial Landlord-Tenant Practice, 2023 Edition.
Real Estate, Land Use & Environmental Law Blog Posts
Media Mentions
'New Normal' Is Elusive For Hotels Amid Pandemic, Attys Say

Hotels Adopt New Cleaning Rules During COVID-19 Crisis

The American Lawyer

,

04.15.2020

Law360's 2020 Hospitality Editorial Advisory Board

Hospitality Attys On High Alert As Coronavirus Fears Spread

Hotel Business Magazine

,

11.07.2019

Chicago Design Network

,

05.22.2019

Legal News Line

,

11.07.2017

New Chicago Sex Assault Law Aims To Protect Hotel Workers

Law360 Hospitality Editorial Advisory Board

Hospitality Cases To Watch In 2017

Crain's Chicago Business

,

01.20.2016

Chicago Lawyer

,

09.04.2014
Speaking Engagements
Speaker, "Chicago's Start-up Landscape," The Economic Club of Chicago on October 4, 2022
Larry moderated the "

Developing and Designing Hotels for a Changing World" panel at Bisnow's

Chicago Hotel and Restaurant Real Estate conference on August 18, 2022.
Larry moderated the "Resilience of the City" panel at Bisnow's Escape & Ascent Digital Dealmaking Conference on December 8, 2020.
He moderated "Alternative Investment Opportunities: How to Make Money in 2020" at Bisnow's Multifamily Annual conference on November 14, 2019.
He moderated "Hotel Investment, Finance & Development" at the Bisnow Los Angeles Hotel Summit on March 14, 2019. He also presented on "Purchases, Sales, and Closing" at PLI's Annual Commercial Real Estate Institute on November 15, 2016, October 25, 2017, and October 24, 2018, and he moderated "Bisnow Chicago Repositioning & Adaptive Reuse 2017."
He also moderated "Fireside Chat: The Opening of the ACE Hotel Fulton Market," at Bisnow Chicago Hotel Investment & Development Series 2017. Lawrence was the keynote speaker at Northwestern University's Kellogg School of Management's Business Law Conference in February 2012.
He has also served as a faculty member and lectured for the National Association of Bond Lawyers. Lawrence has also been a speaker and panelist at various National Association of Bond Lawyers seminars and conferences, and served as a panelist at real estate industry seminars.
Events
Episode Two

,

Webinar

,

06.04.2020

Episode 1

,

Webinar

,

05.21.2020

University of Chicago Gleacher Center

,

10.24.2018

University of Chicago Gleacher Center

,

11.15.2016

The Westin Chicago River North

,

12.17.2014

The Hotel Investment Networking Conference

,

Hilton Chicago

,

05.2014
Memberships
Memberships
Law360 Hospitality Editorial Advisory Board Member, 2016-2022
Advisory Board, University of Illinois at Chicago, 2018-2022
Board of Directors, Metropolitan Capital Bank and Trust, a Chicago-based private bank
Chairman of the Board of Directors, Chicagoland Entrepreneurial Center/1871, a not-for-profit that operates the world's top-ranked business incubator that provides programming and services for entrepreneurs and start-ups
Board of Directors, Chicagoland Chamber of Commerce
Member, Economic Club of Chicago, 2014 - present
Member, City Club of Chicago, 2015 - present
Member, Governing Board of Trustees, University of Illinois, 2001 - 2009
Chairman, University of Illinois, 2003 - 2008
Founding Board Member, IllinoisVENTURES LLC, 2003 - 2009, a University/owner venture capital company
Education
J.D., University of Illinois College of Law, 1985, magna cum laude, Order of the Coif
B.S., University of Illinois, 1982, with high honors
Master of Accounting Science, University of Illinois, 1982
Passed Certified Public Accountant Exam, 1982
Admissions
Illinois
U.S. District Court, Northern District of Illinois