Print PDF
Overview
If you manufacture, sell, or distribute any product directly or indirectly in California – through a distributor, online or otherwise – you need to understand and comply with Prop 65. Sheppard Mullin has the expertise to help.
Prevention is Our Goal
Our main goal is to help you avoid government and private bounty hunter enforcement actions in the first place. We know that is not always possible, but we can help you assess and implement a Prop 65 compliance program that will minimize the likelihood of an enforcement action. We also can audit your website to make sure you are following best practices.
Early Resolution
We will work with you to develop creative solutions to foster early resolution of claims, from pre-lawsuit negotiations to accelerated litigation and appeal of key issues.
Expertise
We have experience in all aspects of Prop 65, including compliance, response to notices of intent to sue, defense of lawsuits, trials, and appeals. We routinely guide clients, both large and small, through the process of responding to 60-Day Notice letters, interfacing with the California Attorney General's Prop 65 unit, and defending enforcement actions in court.
Why Sheppard Mullin?
A long history of great results, including trial victories and published appellate opinions
Experience with a multitude of products, chemicals, and industries
Geographic reach and the bench strength to get things done virtually anywhere and in any forum
Willingness to fight and take a case to trial or appeal if necessary
We are nimble and tough. We make it our business to understand your business, and we make sure your objectives guide our strategy and tactics.
Experience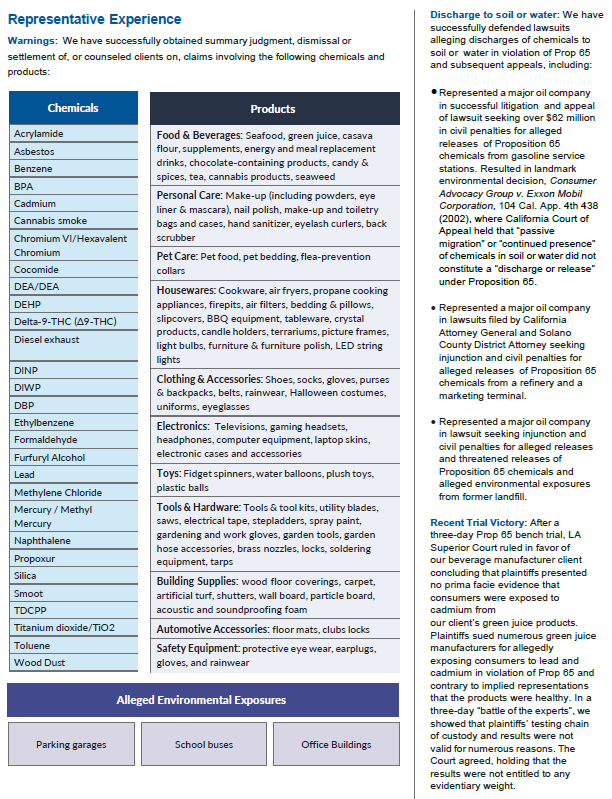 Insights
Podcasts & Webinars
Articles
How One Litigation Group Evolved Its Training Program to Incorporate Remote Advocacy

The AmLaw Litigation Daily

,

03.13.2023

Chemical Watch

,

01.23.2023

Real Estate, Land Use & Environmental Law Blog

,

09.08.2020

Real Estate, Land Use & Environmental Law Blog

,

03.10.2020

Real Estate, Land Use & Environmental Law Blog

,

01.29.2020

Real Estate, Land Use & Environmental Law Blog

,

03.08.2018

Legal News Line

,

02.27.2018

Real Estate, Land Use & Environmental Law Blog

,

01.16.2018

Real Estate, Land Use & Environmental Law Blog

,

01.08.2018

Bureau of National Affairs, Inc.

,

09.2016

Real Estate, Land Use & Environmental Law Blog

,

06.27.2016

Daily Journal

,

05.07.2014

Real Estate, Land Use & Environmental Law Blog

,

06.06.2012

Real Estate, Land Use & Environmental Law Blog

,

03.15.2012

Real Estate, Land Use & Environmental Law Blog

,

07.18.2005