Overview
Scott Maberry is an international trade partner in the Governmental Practice in the firm's Washington, D.C. office. Scott is a past co-chair of the Diversity and Inclusion Working Group for the Washington D.C. office and serves as its representative on the firm's pro bono committee. He is a member of the World Economic Forum Expert Network, where he advises the WEF community in the areas of global risk, international trade, artificial intelligence and values. Scott is a founding member of the Sheppard Mullin Organizational Integrity Group.
Areas of Practice
Scott counsels clients and litigates disputes in the areas of export controls, the Foreign Corrupt Practices Act (FCPA), anti-terrorism, national security, economic sanctions, anti-boycott controls, anti-money laundering (AML), the Foreign Agents Registration Act (FARA), trade remedies (including anti-dumping and countervailing duty (AD/CVD) matters), foreign direct investment and Customs. He also represents clients in negotiations and dispute resolution under the World Trade Organization (WTO), North American Free Trade Agreement (NAFTA) and other multilateral and bilateral agreements.
Scott's practice includes representing clients before the U.S. Department of Treasury Office of Foreign Assets Control (OFAC), the Department of Commerce Bureau of Industry & Security (BIS), the Department of Commerce Import Administration, the Department of Homeland Security (DHS), the Department of State Directorate of Defense Trade Controls (DDTC), the U.S. Department of Justice (DOJ), the International Trade Commission (ITC), the Committee on Foreign Investment in the U.S. (CFIUS), federal courts and grand jury proceedings and WTO and NAFTA dispute resolution panels.
Scott hosts the Nota Bene podcast, a bimonthly series for multinational businesses providing insights on international legal and policy developments. The Nota Bene podcast reaches listeners in more than 110 nations around the world and has exceeded 38,000 downloads. Listeners can subscribe and listen to the podcast on Apple Podcasts, Google Podcasts, Spotify, Amazon Music, Stitcher or the Sheppard Mullin website.
Honors
Honors
Best Lawyer in America, Best Lawyers, 2018-2024
Leading Lawyer - International Trade, Chambers Global, 2008-2023
Leading Lawyer - International Trade, Chambers USA, 2007-2023
Washington, D.C. Super Lawyer, Super Lawyers, 2007-2017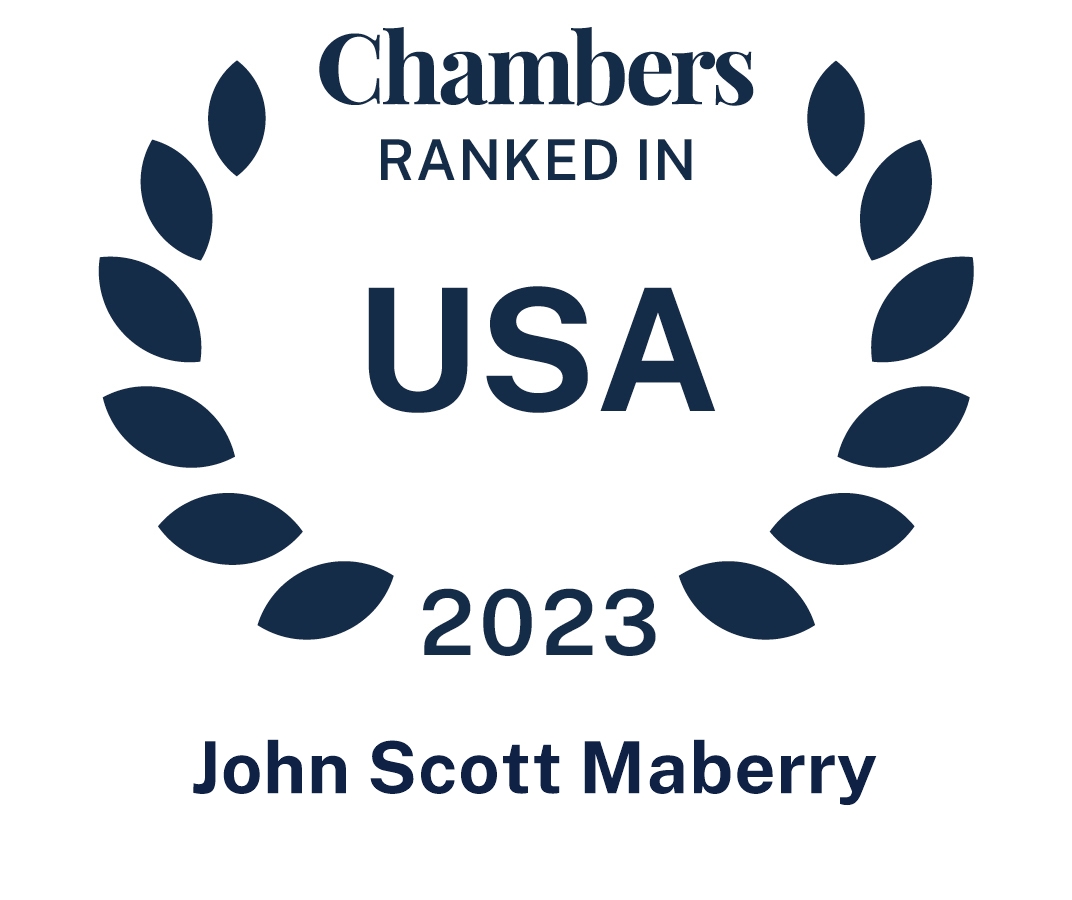 Insights
Articles
The Coalition for Government Procurement; Friday Flash

,

12.06.2019
Co-Author with

C.M. Dombek, R.S. Whitten, F.K. Merchant, and L.C. Mays,

"U.S. Export Controls and the Cloud," Cloud Computing Legal Deskbook, 2016 and forthcoming 2019 Editions, Thomson Reuters Westlaw
"5 Steps to Obtaining an Exemption under President Trump's Steel and Aluminum Tariffs," Lexology, March 14, 2018
"Importers Beware: 10 Things You Must Know About the Emergence of High-Stakes Customs Audits, Lexology, March 8, 2018
"Seeking Foreign Investors for Your Tech Startup? Congress Says, 'Not So Fast,'" Lexology, January 10, 2018
"Close, But No Cigar? Trump, Cuba and the Way Forward..." WorldECR, March 6, 2017
"Those Three Little Words: OFAC's Subtle Language Shift Could Create Sweeping Change on Iran Investment," National Law Review,

October 11, 2016

Co-Author with M.E. Sagrans, R.S. Whitten, F.K. Merchant and L.C. Mays, "Export Administration Regulations," Handbook of Export Controls and Economic Sanctions, American Bar Association Section on International Law, 2016
Co-Author with R.S. Whitten, "Layover in Tehran: United States Authorizes Carriers to Land Civil Aircraft in Iran," Lexology, August 17, 2016
"The Revival of the Age of Antidumping and Countervailing Duty Cases," Lexology, August 17, 2016 (With Lisa C. Mays)
Co-Author with P. Briggs, B. Mulier and R.S. Whitten, "US and EU Iran Sanctions Lifted: How to Proceed in the Aviation Sector?" January 20, 2016
Co-Author with M. Dee, L.C. Mays, "When Voluntary Self-Disclosure Isn't so Voluntary: SEC Says Self-Disclose or Forfeit Non-Prosecution and Deferred Prosecution," Lexology, January 6, 2016
"Shedding Light on CFIUS: Appeals Court Holds That CFIUS Review Lacks Constitutional Due Process," Chinese Outbound Newsletter, September 17, 2014
Co-Author with M.L. Jensen, "A Rising Voice on FCPA Compliance - the Court," Law360, June 24, 2013
Co-Author with B.J. Casino, "FCPA, Due Process, and Jurisdictional Overreach by the DOJ and SEC," American Bar Association Criminal Litigation E-Newsletter, June 12, 2013
"FCPA Overreach? Courts Address Personal Jurisdiction In Cases Against Foreign Defendants," The Metropolitan Corporate Counsel, May 2013
"Q&A With Sheppard Mullin's Scott Maberry," Law360, April 1, 2013
Co-Author with B.J. Casino, "What's in the New FCPA Guide," American Bar Association Criminal Litigation E-Newsletter, March 13, 2013
"Paying Attention During ICE 'Outreach' Visits," Law360, April 17, 2012
Corporate & Securities Law Blog Posts
Global Trade Law Blog Posts
"Does Your Trade Policy Support Your Company's Values?," October 8, 2021
"Exclusions 2.0. The USTR Announces a New Section 301 Exclusion Process for Chinese Products,"

October 8, 2021

"Counterpunch: China Adopts Landmark Anti-Sanctions Statute to Stop U.S. Sanctions Effects Overseas," June 23, 2021

"USTR Grants New Section 301 Exclusions and Extends Existing Exclusions for Certain Chinese Medical Products," January 8, 2020

"Don't Pop the Bubbly Just Yet: Potential Duty Increases for Importers Starting January 1," December 23, 2020

"The Next Four Years in International Business," December 16, 2020

"The Next Four Years of FCPA Enforcement: What to Expect From the Biden Administration,"

November 19, 2020

"Four Ways the Biden Presidency Could Impact Imports, Tariffs, and Trade Agreements," November 16, 2020

"Huawei Whack-A-Mole: The U.S. Takes Another Swing at the Chinese Semiconductor Industry," May 19, 2020

"Sick without Symptoms: How Multi-Million Dollar Customs Issues are Ailing U.S. Companies Without Warning," May 6, 2020

"Refresher: How to Comply With U.S. Export Controls and Anti-Discrimination Laws When Recruiting and Hiring Foreign Nationals," April 8, 2020

"From CFIUS, With Love: The FIRRMA Regulations"

January 28, 2020
Organizational Integrity Group Blog Posts
Books
Media Mentions
Washington Hell-Bent on Strengthening CFIUS

US Tees Up Final Duties On S. Korean Steel Component
Speaking Engagements
"Rio Grande Chapter: Hot Topics: EO14042 and Russia Sanctions," NCMA Rio Grande, April 26, 2022
"The Trump Trade Agenda and the Future of the U.S.-India Relationship," Mumbai, April 24, 2019
"Business Insights: Trade Wars," World Economic Forum, July 24, 2018
"Winning in the United States: Key Legal Topics for 2018," Indo-American Chamber of Commerce, Mumbai, India, February
Moderator, "Global Trade Spotlight – Spotlight on Global Regulatory Initiatives Impacting on International Trade Compliance across the Globe," A.C.E.S. Compliance Summit, April 19, 2017
"International Collaborations," Association of University Export Control Officers (AUECO) Annual Meeting (with Patrick Schlesinger), Philadelphia, May 23, 2016
"U.S. and Indian Bilateral Investment Treaties: How the Models Compare," U.S.-India Business Council Webinar (with Jyoti Sagar) February 17, 2016
"Emerging Trends in International Trade Compliance," National Association of College and University Attorneys (NACUA) Annual Meeting, Washington, D.C., November 12, 2015
"Exploring US-Cuba Export Regulations," U.S.-Cuba Corporate Counsel Summit, New York, March 24, 2015
"Export Control Reform Level Set: Where Are We Now and Where Are We Headed?," Momentum Event Group webinar, July 8, 2014
"Deferred Prosecution Agreements: Outlook for the Prosecution of Complex Cases," Bird & Bird's Aerospace, Defence and Security seminar, London, England, February 12, 2014
"Preparing Your Operations for Mergers & Acquisitions – Identifying Red Flags and Effective Due Diligence Practices to Ensure a Successful Transaction," The ITAR Summit: Winter Edition, Momentum Event Group, Irving, Texas, January 27-28, 2014
Events
Omni Hotel Houston Galleria, Houston, Texas

,

02.10.2023

Sheppard Mullin San Francisco

,

04.30.2019

Washington, D.C.

,

11.01.2017

10th ACES Compliance Summit - Washington, DC

,

04.18.2017
Memberships
Memberships
Co-Chair, National Institute on Economic Sanctions, American Bar Association
Senior Advisor and Chair Emeritus, Export Controls & Economic Sanctions Committee, American Bar Association
Member, International Trade Steering Committee, American Bar Association
Education
J.D., Georgetown University Law Center, 1993
M.S., Georgetown University, 1993
B.S., Northwestern University, 1988
Admissions
District of Columbia
New York
U.S. Court of Appeals for the Federal Circuit
U.S. District Court for the District of Columbia
U.S. Court of International Trade