Print PDF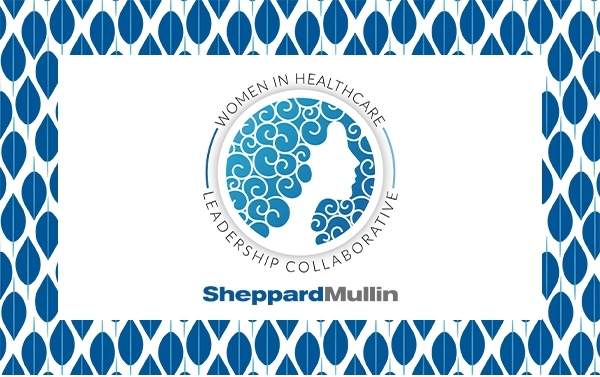 Our Mission
The Women in Healthcare Leadership Collaborative (WHLC) is an exclusive leadership initiative for women attorneys, compliance officers, business leaders and other professionals in the healthcare industry who have the talent and drive to advance their careers in a dynamic and heavily regulated industry. WHLC is dedicated to supporting and cultivating women leaders in healthcare by providing members with important legal and industry insights, professional skills training and development, quality networking with other leaders in healthcare, and peer-to-peer mentoring. WHLC hosts quarterly roundtable discussions providing targeted education to members on critical issues facing the healthcare industry today.
Upcoming Events
Blockchain for Healthcare: An Algorithm for Success?
April 2, 2020
New York
Led by James Gatto, Sheppard Mullin
Moderated by Amanda Zablocki and Danielle Vrabie
Join us April 2 as we discuss the wide-reaching applications of blockchain in the healthcare industry, including with respect to the latest trends and legal implications.
Recent Events
A view from the Capitol: 2020 Healthcare Policy, Legal and Regulatory Predictions

January 23, 2020
New York and San Francisco
Led by Bevin Newman, Christine Clements, Allison Fulton and Kathleen Stratton, Sheppard Mullin

Moderated by Amanda Zablocki (NY), Danielle Vrabie (NY), Eric Newsom (SF) and
Jeralin Cardoso (SF), Sheppard Mullin
Social Determinants of Health: Developing & Leveraging Partnerships with Community Based Organizations

September 17, 2019
New York

Led by Dawn Hawkins Goodman, MSN, RN, Principal, COPE Health Solutions and
Dr. Amanda Parsons, Deputy Chief Medical Officer at MetroPlus
FAQ
1. What are the benefits of membership in the WHLC?
WHLC is an exclusive members-only initiative that provides its members with high quality education on critical issues facing the healthcare industry today, professional skills training, and networking opportunities, in each case tailored to the needs of the WHLC members. There is no membership fee or other cost associated with joining WHLC.
2. What programming will WHLC offer?
The WHLC hosts roundtable discussions, workshops, and social events that are both content-driven and intended to provide members with the opportunity to network with peers and develop additional professional skills. The roundtable discussions will focus on complex legal issues, cutting edge advances in healthcare, and other critical issues facing the healthcare industry. Professional skills workshops will focus on providing WHLC members with advice and tools to help them advance in their careers.
3. What other organizations are involved in supporting WHLC?
In addition to providing legal and regulatory insights from our nationally-ranked healthcare team, Sheppard Mullin is partnering with COPE Health Solutions to bring WHLC members critical business insight and expertise. Sheppard Mullin also is working with BEW Consulting & Training to provide WHLC members with professional skills and development workshops. More information about these two organizations is below.
COPE Health Solutions is a national mission-driven consulting firm that partners with health systems and payor clients. COPE provides its clients with the tools, services and advice they need to thrive in the current complex and uncertain pluralistic payment environment and achieve visionary, organizationally relevant results. COPE has expertise in all aspects of population health, strategy, delivery system development, payment systems reform, workforce development and population health management support services, including peerless analytics and performance improvement. COPE is driven by its passion to help transform healthcare delivery, align financial incentives to support population health management and build the workforce needed as healthcare moves to value-based care.
COPE's multidisciplinary team of healthcare experts provides its clients with the experience, capabilities, and tools needed to plan for, design, implement and support the development and execution of strategies to solve some of the industry's most complex problems. COPE partners with its clients through aligned mission and financial incentives to pursue performance excellence in a challenging and rapidly evolving healthcare environment.
COPE Health Solutions is excited to partner with Sheppard Mullin in the development of the WHLC. COPE Health Solutions is committed to developing and supporting a diverse workforce and recognizes the importance of fostering female leadership. It is through our diverse workforce that we enable more diverse thought creating innovative solutions. COPE Health Solutions is proud to support the advancement of female leadership within the WHLC.
BEW Consulting & Training, LLC (BEW) is a specialized professional development consultancy service offering companies a psychologically informed approach to professional development training. The BEW approach advances employees' professional and personal growth, productivity, and well-being through skills-based workshops, team development, and leadership training. BEW's unique approach utilizes two methods: (1) deliver concrete skills and strategies to enhance professionals' day-to-day performance, productivity, and profitability, and (2) teach professionals how to support and develop the emotional intelligence skills (e.g., self-awareness, self-regulation, and empathy) associated with successful leadership. In a nutshell, BEW helps professionals do their jobs better than they thought that they could.
4. Is there a cost to become a member of WHLC?
Membership in the WHLC is completely free! Sheppard Mullin sponsors WHLC as part of its commitment to the development and advancement of women in the workplace.
5. Who can become a member in WHLC?
The members will be comprised of in-house counsel, compliance officers, mid to senior management, c-suite executives, and other professionals with several years of experience in the healthcare and the life sciences industry. Membership in WHLC is currently by invite-only but if you or someone you know would be a good fit for WHLC, please email us at whlc@sheppardmullin.com.
6. Who can I contact if I'd like to join or have more questions?
Please feel free to reach out to the Co-Chairs of WHLC, Danielle Vrabie and Amanda Zablocki, by emailing whlc@sheppardmullin.com.
Contact
Questions can be directed WHLC Co-Chairs Danielle Vrabie and Amanda Zablocki at whlc@sheppardmullin.com.